Premium Quality
You'll notice the quality in all of our products. From our super soft lycra material to 4-way stretch in our swimwear and shorts, you'll never want to wear anything else!
Our Roots
We're all about freedom and patriotism! We are Navy SEAL owned and reflect our roots in everything we do. We are creating a culture of Naked Warriors, join us!
You've Probably Seen Us Before
Sunga Life can be found on everyone from NFL players, TV Stars, Bodybuilders, and Elite Fighters.
Customer Reviews
Write a Review
Ask a Question
07/09/2020
David H.
United States
Great products, even better customer service!!!!!
07/08/2020
Alex K.
United States
Ranger Silkies for a Ranger
These silkies are super comfortable, the freedom of movement makes them very versatile, for either suntanning, swimming or working out in the gym. Plus they bring back the good ol memories from being in Ranger School, aswell my fiancé loves the way they fit and accent my dimensions! Definitely going to buy more once they're in stock! A++++++++ Rating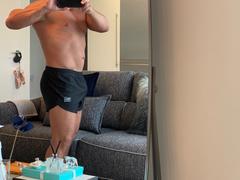 07/06/2020
Mikah S.
United States
Always Quality - Well Worth the Money
This makes my fourth purchase of Sunga Life silkies and the quality is outstanding as usual. Incredibly comfortable, well-constructed, and they look great. Looking forward to purchasing more as new designs roll out!
07/04/2020
Matt W.
United States
Excellent!
As excellent as excellent can be! It's actually warm in Alaska, and super, super comfortable around the house anyways. And the wife approves immensely. Green camo ones are next for sure.
07/04/2020
Michael A.
United States
Comfiest shorts ever!
Insanely comfortable, no limit to mobility (think jean shorts in Always Sunny) and part of a great cause. Thanks for making such a great product!
07/01/2020
William F.
United States
Multicam
Great experience, fast delivery. Love the shorts in the gym or if doing roadwork. Keep up the great work.
06/30/2020
Gill P.
United States
Awesome Silkies
Great quality shorts and most comfy liner I've ever experienced in a pair of silkies! However, I'm 6'1" 245lbs and although the XL is wearable for me, I would definitely buy several more pairs if they were offered in a XXL.
06/30/2020
Caleb P.
United States
Great material and design
If what you want is a strict workout short then these are tough to beat. It seems they'll last a lifetime, though a tiny hole next to the side seam in a new short was a minute letdown. If these had a pocket I might never take them off!
06/29/2020
Grant S.
United Kingdom
Ranger shorts
Top product and an amazing company ethos, delivery to United Kingdom was so fast like crazy fast 4 days in fact many thanks for an amazing product
06/29/2020
James C.
United States
Awesome
Well made. Fit as promised.
06/29/2020
Jim B.
United States
Great shorts
Finally an actual pair of shorts! Love them and super comfortable!
06/29/2020
Jacob N.
United States
All purpose shorts
When I'm out running around this summer or hitting the gym or pool, these are the perfect shorts. They are fairly heavy duty construction and meant for work. I loved them so much I bought 3 more pairs!
06/21/2020
William F.
United States
Great active wear
Comfortable while at the gym or running. Well made. As a result I ordered another pair, different color.
06/20/2020
Bradley H.
United States
Just got the shorts
Well it did have the fit of the UDT swim trunks without the need to unbutton a top button and the addition of the liner to keep the boys in check is nice. I have to say the construction of these shorts is top shelf and it looks like they will last longer than most. Got to work on a higher tan line starting tomorrow. I will be ordering more, good job! Thanks, Brad Class 68...
06/19/2020
Britt S.
United States
Slikies
Great fit. Love the waistband and beefy drawstring!
06/19/2020
Alexander C.
United States
Great shorts!
Design and fit are great, much more comfortable than the regular, plain old silkies! Going to buy more pairs