Premium Quality
You'll notice the quality in all of our products. From our super soft lycra material to 4-way stretch in our swimwear and shorts, you'll never want to wear anything else!
Our Roots
We're all about freedom and patriotism! We are Navy SEAL owned and reflect our roots in everything we do. We are creating a culture of Naked Warriors, join us!
You've Probably Seen Us Before
Sunga Life can be found on everyone from NFL players, TV Stars, Bodybuilders, and Elite Fighters.
Customer Reviews
Write a Review
Ask a Question
09/07/2020
joseph p.
United States
YES, JUST PURE YES
BEING A RANGER MYSELF I FELT LIKE GIRLS THAT CAME OVER COULD HAVE A PAIR AND STOP STEALING MINE… I ORDERED 5 PAIR…. RANGERS LEAD THE WAY…. SUNGA MAKES THE PATH EASIER TO FIND...
09/06/2020
Thomas M.
United States
sky's out thighs out
love'em, except the liner in one pair doesn't fit the same as another. Rides up my crack. Will probably just cut it out.
09/03/2020
Brian S.
United States
Wish I had them to review.
Never received.
09/03/2020
gordon o.
United States
Epic and comfortable
I like them but wish that more were avail in the small... The medium while comfortable are a big large for me with a 30 waist...
09/02/2020
Paul V.
United States
Awesome Shorts!
These are my fave shorts now for doing just about anything.
08/31/2020
Brandon T.
United States
08/31/2020
Rick R.
United States
Just what 2020 Needed!
I was looking for something different and happened across these. I'm glad I did - they look and feel great! Have done a few runs and workouts in them and wore them on the boat this weekend. Highly recommended to get out of the basic, boring, shorts with a great looking and functional design!
08/29/2020
Jonathan T.
United States
Next level!!
Haven't taken it into the pool or ocean yet, but great for lifting. Thought pocket wasn't going to be big enough for my phone w/ protective case, but I was wrong. Love the design and construction. Even with updated sizing guidelines, I think my personal preference would still like a tighter fit, or a dedicated SMALL, not sure if there is a large enough market/demand for those ?? Still love them though.
08/29/2020
Ryan E.
United States
If Poseidon wore silkies, he would wear these.
This is an absolutely amazing product. They are incredibly soft and right out of the gate they wear more comfortably than run of the mill silkies that I have had for years. These are perfect for those who live that amphibious lifestyle. Gym Shorts? CHECK. Hitting the beach? CHECK. Urban runs? CHECK. Grabbing your spouse a gallon of milk on your way home from all the above? CHECK. Sunga raised the silkies bar. These will not disappoint.
08/28/2020
brett c.
United States
Love them, the compression short could compress
Fantastic, really like the materials, fit, length etc. The only issue I have with them is the compression short is far too loose, it's hardly compressing anything and the real issue then is when you have a cell phone in the pocket, it jiggles around while running... otherwise great shorts.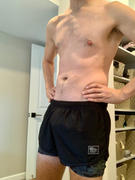 08/27/2020
WG
Willie G.
United States
08/27/2020
JEFF G.
United States
Most functional work out shorts ever!
Love these shorts for the gym. I just have my phone in the pocket liner and it holds it perfect while bluetooth connects to my headphones and I get the best work outs!
08/26/2020
Joel R.
United States
Great shores
Love them, I like the liner with the large pocket
08/25/2020
Melody I.
United States
favorites
love the design and quality
08/25/2020
Melody I.
United States
fab!
fun style and quality. excellent customer service!!!
08/25/2020
Melody I.
United States
good quality
i'm really liking my silkies. fav brand so far for the quality!